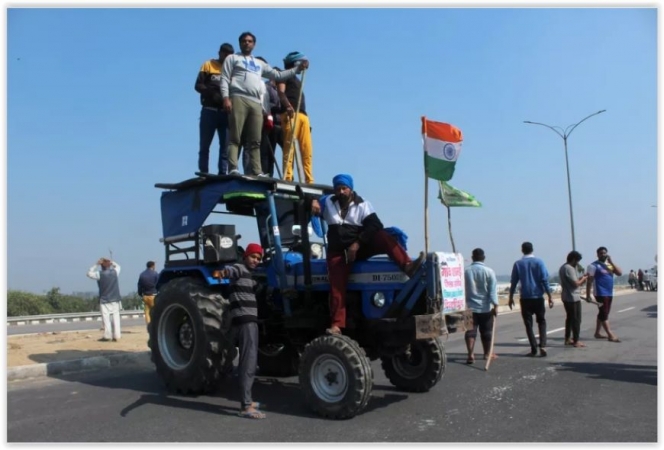 Professor Aditya Dasgupta, who specializes in the politics of India, spoke with Vox about the protests in India and the larger political statement and impact.
Tens of thousands of farmers blockaded main roads across India on Saturday in a continuation of a months-long protest movement against new agricultural policies they say will empower corporations and devastate farmers financially.
The continued demonstrations indicate that protest energy remains strong, as the government and farmers remain locked in a stalemate after several rounds of talks between them failed to produce any major breakthroughs.
Protesters have been mobilizing against three agriculture reform laws passed by Modi's Bharatiya Janata Party (BJP) in September; together, the laws aim to deregulate India's agricultural industry.
Since the 1970s, an elaborate system of agricultural subsidies and price guarantees, organized through a system of marketplaces known as mandis, has been a central feature of agricultural policy in India, and, as Arvin noted, have essentially helped provide farmers with a kind of safety net.
Aditya Dasgupta, an assistant professor of political science at the University of California Merced specializing in the politics of India, says those policies are the product of large-scale mobilization by farmers, agrarian unions, movements, and parties which became politically powerful during the Green Revolution, the country's enormous leap in agricultural productivity, which took place in the 1970s and '80s.
"The farmers' protests today hark back to that tradition of protest and display of agrarian power, but the context is very different," Dasgupta told me. "India is urbanizing, agriculture accounts for a shrinking share of GDP, and the main source of political-economic support for the ruling BJP party comes from urban big business."
"So, in a sense, this is not just a conflict about specific policies, but also a larger flashpoint about the sectoral basis of political power, and whether or not farmers remain a politically powerful interest group as India urbanizes," he said.
Read more here.