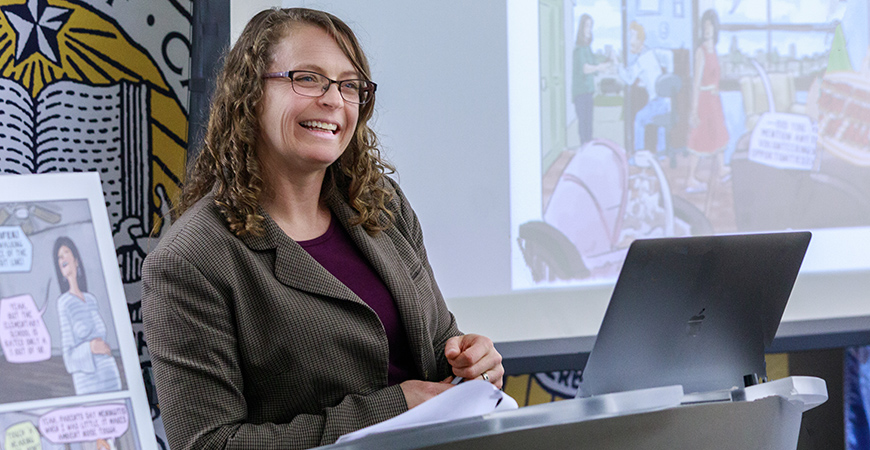 Political science Professor Jessica Trounstine has been awarded the inaugural UC Merced Foundation Board of Trustees Presidential Chair.
This chair was created to recognize the excellent contributions of a faculty member in a field of research at the discretion of the chancellor. Chancellor Emerita Dorothy Leland (2011 – 2019) announced Trounstine's appointment for her scholarly contributions to the campus at the June 2019 Board of Trustees meeting.
The Presidential Chair was made possible through a Chairman's Challenge, an initiative launched by UC Merced Foundation Chairman Lee Kolligian in 2014 to encourage fellow trustees to collectively contribute funds for the installation of an endowed chair. At that time, UC President Janet Napolitano had announced a Presidential Match program to incentivize private giving at the UC campuses, promising to match dozens of chairs across the system.
A number of UC Merced trustees contributed to the Presidential Chair, including a leadership gift from Regent Emeritus Frederick Ruiz and his wife, Mitzie. Ruiz, co-founder of Ruiz Foods, is a founding member of the UC Merced Foundation Board of Trustees and served as regent on the University of California's governing board from 2004 to 2016.
"Professor Trounstine's scholarship is exactly what we had in mind when we endowed this chair — a study of how American politics and society work at the local level, engaging in all the issues so important to the Central Valley," Ruiz said. "UC Merced and the people of California will be well served by her contributions, and we are proud to have her as the inaugural chair."
Trounstine came to UC Merced in 2009 after working as an assistant professor of politics and public affairs for five years at Princeton University. A UC grad herself, Trounstine earned her bachelor's and Ph.D. in political science from UC Berkeley and UC San Diego, respectively.
Trounstine, who left the East Coast in 2009 for UC Merced, was drawn to the opportunity to help build a new university campus, a rare opportunity in the 21st century.
"The people who came to UC Merced in those early years were very special, committed people and we have continued to hire faculty and admit students who want to make a difference in this world," Trounstine said. "There really is no university like UC Merced, where students and faculty can write their own history."
Trounstine researches American politics with a focus on local government, primarily in large cities. She is interested in how political institutions influence citizens' representation. For example, she examines the choices local governments make that result in race and class segregation in and across cities through the allocation of resources.
A self-proclaimed generalist, much of Trounstine's work involves finding trends and stories in large sets of data from a range of cities. In her most recent publication "Segregation by Design: Local Politics and Inequalities in American Cities" (Cambridge University Press, 2018) Trounstine examines resident resource data, like sewer and water access, from 1890-2010 as she tries to understand segregation patterns, how they've changed over time, who benefits and who loses.
Allowing her to continue this work is important to both students and citizens, said Jeffrey Gilger, interim dean of the School of Social Sciences, Humanities and Arts.
"This special chair was designed to support and retain faculty who represent the best scholars in their field. This chair will help Jessica continue her research and train students on representation issues in American democracy," Gilger said. "Her work has been widely cited and applied, and it includes topics of particular importance today, including how political institutions can enhance or limit the ability of citizens and residents to achieve a fair and responsive government."
Moving forward, the UC Merced Foundation Board of Trustees Presidential Chair will allow Trounstine to continue to teach in the Department of Political Science and further her research into local politics.
"I'm so grateful to receive this honor because it will allow me to do the kind of deep scholarship and empirical work in political science that I am excited about and that is so important to this field," Trounstine said.