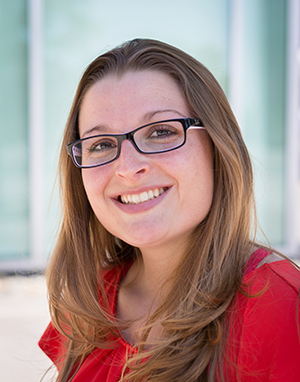 With the 2016 presidential race already in full swing, political science graduate student Kayla Canelo's research is particularly timely. 
This spring and summer, Canelo designed and carried out a study that examines the effects of scandal on the public perception of political figures. Specifically, she wanted to know if female candidates could potentially face more significant disadvantages in the political arena than their male counterparts after different types of political scandals. 
In Canelo's study, participants read a mock news story about a sitting member of Congress who was running for reelection after one of two political transgressions — the leaking of sexually provocative photos of the candidate, or indictment for tax evasion. The candidate's gender and political party were manipulated for the study, which had nearly 2,000 participants.
"My idea was that one of these scandals is actually illegal, and the other not," Canelo said. "Both of these scenarios were modeled after real-life scandals in recent politics, but the names used in the study were fictitious."
The study's preliminary findings suggest that for tax evasion, participants in the study were no more likely to 'punish' the male candidate than the female candidate.  However, this was not the case for the condition of the sexually provocative photos. 
Under those conditions, study participants — both men and women — were more likely to punish male candidates than female candidates. Participants were more likely to state that the male candidate should resign voluntarily and should not hold office in the future, and that the candidate's conduct would matter to them when they were voting. 
"This was contrary to my expectations, and warrants further research," Canelo said.
Canelo holds a bachelor's degree and a master's degree in history from California State University, Stanislaus. After finishing her master's degree, she taught history for two years at Gavilan College and Hartnell College, but found herself drawn to the idea of going back to school for her political science doctorate. UC Merced was a natural fit for the Atwater native.
"I'm from the San Joaquin Valley, so I liked the idea of being close to home," Canelo said. "But on the academic level, our interdisciplinary focus means I have the option to take classes in psychology, to take classes in cognitive science, or to work with professors from all sorts of disciplines. Plus, the faculty are very open to communicating and even coauthoring projects, which means that I am getting more opportunities to collaborate and publish here than I might at other institutions."
Canelo has been involved in a number of other research projects this summer. For her research practicum, she has been helping professors Thomas Hansford and Stephen Nicholson assess public reactions to individuals who use the First Amendment to hinder free speech. She has also been working with Nicholson and Professor Matthew Hibbing — along with fellow graduate students Chelsea Coe and Kau Vue — on assessing how physiological reactions like threat and disgust sensitivity can shape how people perceive political messages.
The group has presented the latter study at two recent conferences: the Hendricks Symposium on Psychology, Biology, and Political Attitudes at the University of Nebraska, Lincoln; and the annual meeting of the International Society of Political Psychology in San Diego.