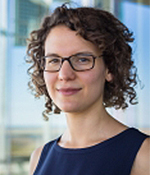 Education:
Ph.D., Political Science, 2017, Harvard University

M.P.A, 2010, Columbia University

B.A., Sociology, 2005, University of Wisconsin-Madison
Research Interests:
Political behavior

Inequality

Causal inference

Field experiments

Spatial/geographic analysis
Sands studies the consequences of context on political and civic behavior. Her research shows that who and what we encounter as we go about our everyday lives affects the policies we support and how we interact with government. Specializing in causal inference, field experiments, and spatial/geographic analysis, she develops new methodological approaches to the study of social and physical context.